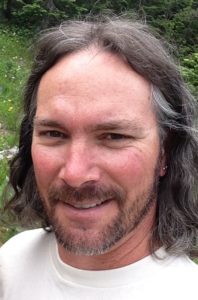 Brian Burns, Executive Director/Project Manager 
Brian joined the Tri-State Steelheaders in 2002, and became our Project Manager in 2004. Since 2004, Brian has coordinated and managed numerous habitat restoration projects sponsored by Tri-State Steelheaders across southeastern Washington.
When not in the office, Brian works on a big vegetable garden, watches the Walla Walla sunsets with his wife and two huskies, and dabbles in home winemaking. Originally from the California bay area, Brian came to Walla Walla after completing his M.S. in Biology at Utah State University.
Brian's philosophy on habitat projects: "Clean water and healthy watersheds – what's good for fish is good for people."
Andrew Bassler, Education Coordinator
Andrew is a native of the Moscow-Pullman area, he is enjoying his new home of Walla Walla and all of the opportunities it has to offer. An avid fly-fisherman, he is excited to continue and expand Tri-State Steelheaders' educational outreach and partnerships with local fisherman and residents who enjoy our beautiful watershed. Andrew received his Master's Degree in Education from the University of Idaho, and is just as comfortable in the classroom teaching a lesson as he is in his waders searching for cutthroat trout. In his free time, Andrew enjoys camping, fishing, sports, and engaging in good conversation.
Alex Coak, Recreational Activities Coordinator/AmeriCorps Volunteer
Originally from the coastal plains of the eastern US, Alex moved to Walla Walla to experience a new region and a new role as a member of AmeriCorps. Alex's role will be to assist Education & Outreach Coordinator Andrew Bassler with education projects in conjunction with local schools and organizations, as well as assist with and develop events to foster recreational angling and a conservation mindset amongst members of the community. In his free time, Alex enjoys taking part in a range of outdoor activities from fishing to hiking, as well as meeting new faces and seeing new places.
Steve Gwinn, Volunteer Coordinator
Steve is a Walla Walla native and has been active in Tri-State Steelheaders for many years. After retiring from teaching at the Walla Walla Public School, he was recruited to join the staff at Tri-State Steelheaders.  Steve provides critical outreach and fundraising support in our local community.  
Cheryl Cockerline, Administrative Assistant
Cheryl came to Tri-State Steelheaders many years ago after retiring from teaching our youth in the Walla Walla Public School. Cheryl performs many tasks that keep our office running smoothly. We are grateful to have her as part of our team.