Tri-State Steelheaders currently works with area schools on two different education programs. If you're a teacher and would like to get your class involved in either of the programs described below, please contact us – our Education and Outreach Coordinator would love to talk to you!
Salmon in the Classroom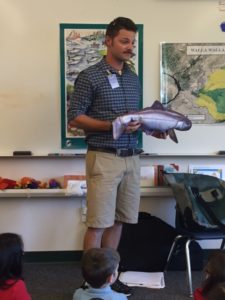 The Salmon in the Classroom program, established by the Washington Department of Fish and Wildlife (WDFW) in 1991, provides students with an interactive experience designed to teach about the salmon life cycle, water quality, and stewardship of water resources.  WDFW funding provided aquariums, chilling units, and everything necessary to raise salmon.  Fish eggs are provided by local hatcheries, students feed the fish, maintain the tanks, and in April or May release the fish into an approved water body.  Tri-State Steelheaders has participated in the Salmon in the Classroom program for about 13 years, and continues to provide aquariums, chillers, and eggs for teachers who wish to raise fish in their classrooms.
From local teacher Tonya Wessman:
"The salmon tank is a great learning tool for our entire school and the families it represents because it is in the lobby where everyone observes the entire process. The students and their parents eagerly watch for the eggs to arrive, and many of them observe the eggs every day to look for changes. There is great excitement with every little change that takes place. I don't think many people have seen this process before, so we are definitely educating the public about the salmon life cycle. I do believe it makes the students more aware of the importance of caring for the environment and the salmon habitats because they know more about the needs of the fish and they have personally taken an interest in them. Because the kids actually get to release the salmon, they are very interested in what might happen to them. This is real-life, hands-on learning, which is always the best!"
Watershed Health Evaluation Program 
Tri-State Steelheaders has collaborated with science teachers across Southeastern WA to provide the tools and assistance to implement Watershed Health Evaluation Program, a hands-on experience collecting watershed/water quality information.  At each site, students evaluate each parameter such as dissolved oxygen, pH, temperature, turbidity, riparian condition, aquatic invertebrates and hydrology.  The aim of the program is to provide students the opportunity to use this equipment and evaluate a stream in their local watershed.