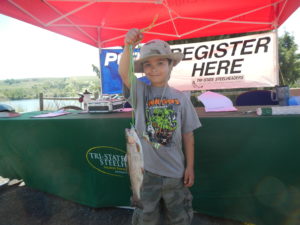 Tri-State Steelheaders and the Walla Walla District Corps of Engineers are hosting a Kids' Fishing Day at Bennington Lake on June 11. Youth 14 and under will receive goodie bags that include fishing gear, an entry into the casting contest, and a hot dog and a soda.
Catchable (8-12 inches, ½ pound each) and Jumbo (14 inches or more, 1 ½ pounds each) rainbow trout have been stocked in the lake all spring by Washington Department of Fish and Wildlife, so the fishing should be good! Fishing rods will be available to loan to kids without their own gear or those who want to try fishing for the first time. The event is intended to be fun for the family, and an opportunity for kids to learn a new hobby. All participating kids will also be entered into a drawing for brand-new fishing poles.
We hope to see you there!