Mill Creek Passage project ahead of schedule
The latest phase of passage improvements in the Mill Creek flood control channel are nearly completed. Approximately 1,000 feet of channel will now provide passage for salmon and steelhead.
***
Bridge to Bridge project plans complete
See them here
***
Scholarship Opportunity
The Paul Ancich Scholarship will award $1,200 to one student of natural sciences.
Applications due June 17th. See the flyer for details.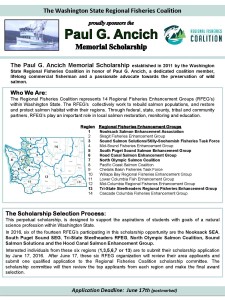 —
Spring 2016 Newsletter
In this edition of the Steelheader:
Classrooms releasing salmon
Oregon youth fishing and trophy trout program
Tucannon River steelhead – a contributed special article
—
2016 Crab Feed Fundraiser 
Join us Thursday, May 12, 2016  in the Community Center at the Walla Walla Fair Grounds to hear about all the fun work we're doing and bid on those auction items that support your favorite Steelheaders' programs.
ONLINE TICKETS ARE SOLD OUT! To order a last minute ticket give us a call at 509.529.3543
Click here for more information.
Doors Open at 5 p.m. Food service begins at 6:30 p.m.
—
For fifty years, TSS has supported fisheries activities and restoration across the lower Snake River spanning Washington, Oregon and Idaho.  We are proud to serve our local communities and lead aquatic restoration efforts that will build and protect our community, economy and local natural resources.  – To read more…
—
Winter 2016 Newsletter
In this newsletter:
Steelheaders Visit the Capital
Grant Awarded for Next Pahse of Mill Creek Fish Passage
Salmon in School at Walla Walla High School
New staff
See what we've done for restoration, education and recreation in the last fiscal year!
—
Fall 2015 Newsletter
In this newsletter:
How you can help Lion's Park Pond
Salmon go to School
What is a Regional Fisheries Enhancement Group?
Steelheaders' receive Sherwood Trust Grant—
If you could tell the director of Fish and Wildlife one thing, what would you say?
Here's your chance to be heard, as WDFW is looking for your input to shape their priorities for the coming years.
We hope you'll consider:
The importance of habitat restoration. Healthy habitats for fish and all wildlife contribute to resilient populations following floods, fires, and droughts.
Robust habitats provide a buffer against significant impacts to populations.
Healthy habitat is essential to the recovery of salmon populations and to ensure our state icon persists for future generations.
Regional Fisheries Enhancement Groups, like the Tri-State Steelheaders, are supported by WDFW.
In return, the 14 RFEGs state wide leverage volunteers, donations, and other funds at a return of $7 for every $1 spent.
Restoration work creates jobs and supports local economies.
Comments will be accepted at upcoming meetings statewide, by email, and through WDFW's website.
Summer 2015 Newsletter
In this newsletter Kids' Fishing Day at Bennington Lake, the Crab Feed Fundraiser, new staff, we remember one of our long time members, and more.